In association with Nissan Motor GB, Nissan Europe and Nissan Japan the Founder Members of the GT-R Drivers Club (GTRDC) are delighted to formally announce a brand new Club for the GT-R and Skyline community.
The Club's aims are to ensure that all drivers, enthusiasts and anyone passionate about the brands and cars are included. Irrespective of other clubs, organisations, social media groups or forums the GTRDC welcomes all to be involved as much, or as little, as they like.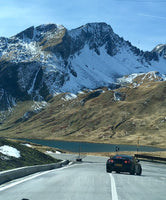 The Club has been formed to create a welcoming environment for everyone, whether dreaming of your first car or buying your next in the collection. We are a responsible Club and any abusive or anti-social behaviour will not be accepted or tolerated among Members or Founder Members. The goal is simply to create a fantastic experience where we enjoy the cars which brought us all together in the first place.
Joining forces, and making its home with the longest running GT-R forum www.gtr.co.uk the GTRDC brings together the knowledge and experience of www.gtr.co.uk with a group of Founder Members with passion, breadth of ownership and ambition.